Longs Peak Webcam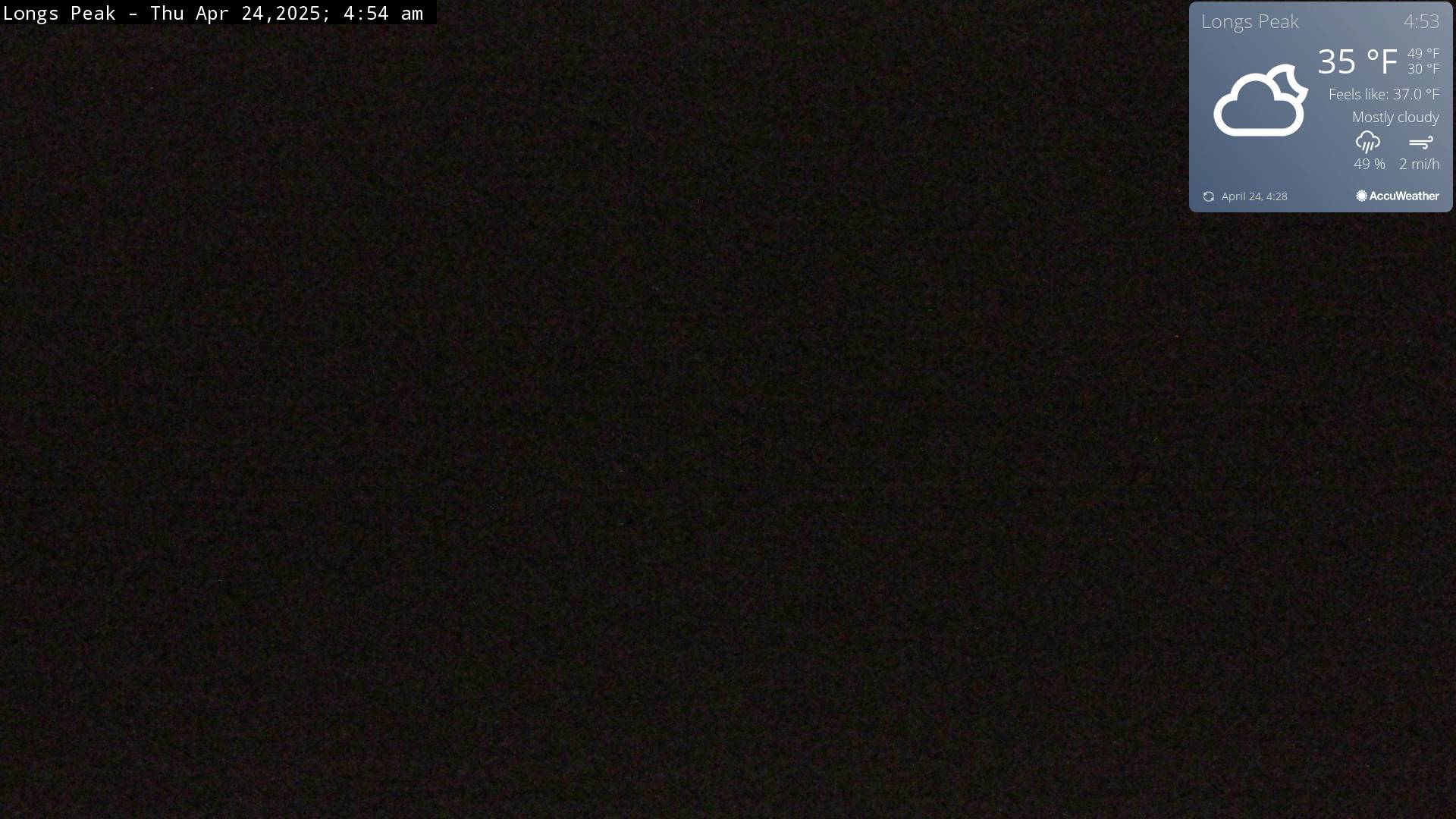 Rocky Mountain National Park is a national park located in the Front Range of the Rocky Mountains, in the north-central region of the U.S. state of Colorado. It features majestic mountain views, mountain lakes, a variety of wildlife, varied climates and environments—from wooded forests to mountain tundra—and easy access to back-country trails and campsites. The park is located northwest of Boulder, Colorado, and includes the Continental Divide and the headwaters of the Colorado River.
The park has five visitor centers. The park headquarters, Beaver Meadows Visitor Center, is a National Historic Landmark, designed by the Frank Lloyd Wright School of Architecture at Taliesin West.
The park may be accessed by three roads: U.S. Highway 34, 36, and State Highway 7. Highway 7 enters the park for less than a mile, where it provides access to the Lily Lake Visitor Center which is closed indefinitely. Farther south, spurs from route 7 lead to campgrounds and trail heads around Longs Peak and Wild Basin. Highway 36 enters the park on the east side, where it terminates after a few miles at Highway 34. Highway 34, known as Trail Ridge Road through the park, runs from the town of Estes Park on the east to Grand Lake on the southwest. The road reaches an elevation of 12,183 feet (3,713 m), and is closed by snow in winter.
The California Zephyr serves Granby (near the west entrance of the park) by rail from Denver, crossing the Continental Divide through the Moffat Tunnel well south of the park. The park's website suggests Granby as an appropriate rail terminus for visitors, although it lies about sixteen miles from the park without public transportation connections.
The park is surrounded by Roosevelt National Forest on the north and east, Routt National Forest on the northwest, and Arapaho National Forest on the southwest.